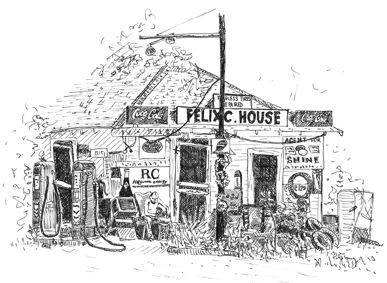 The South
The South was the last complete regional culture in America, though it too has largely been altered by new technologies and incomers. Two years working with Fred Kniffen at LSU left me a lifetime wanderer looking at the origins and foundations of the Southern Landscape. Though living on the coast now, the paintings below represent a new attempt to find and capture the South the way it was throughout most of the twentieth century before paved roads, television, industrial consolidation, and snowbirds took their toll. For a more lengthy discussion of my thoughts on the South, its changing landscape, and its future see Richard Pillsbury, Geography, (Vol. 2, The New Encyclopedia of Southern Culture) 2006.
Home Low Country Charleston Flowers and Things Richard Pillsbury Ordering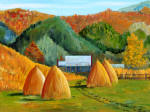 Mountain Home 18x24 oil
Studying the creation of the southern landscape brings one a lot of surprises and beauty. This isolated farm in the southern Smokies was the real deal, they didn't know there was another way of doing it.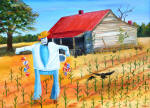 Here I Come (18x24) oil
More wandering across the piedmont this time in search of the elusive foundations of the South.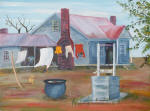 Who's Coming (18x24) oil
Isolated sharecropper farms didn't get many strangers and one never knew who they might be.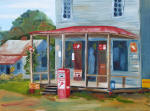 Firechielf Passing (18x24) oil
Its popular to blame Walmart for the passing of the country store, but they weren't doing well long before that. Paved roads, jobs in towns, and the great menace of all folk culture, television, are all less attractive, but more realistic culprits.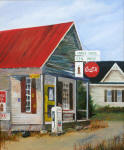 Moore Bros Store (20x24) oil
Country stores in many ways defined the southern landscape.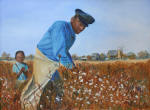 Christmas Cotton (18x24) oil
Small patches of cotton were often grown around the homes in rural areas and handpicked and sold for Christmas money, or Christmas cotton if you would.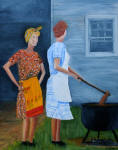 Too Many Cooks (11x14 oil)
Black pot cooking outdoors of Carolina hash, Brunswick stew, apple butter, and other regional delicacies as a part of a family reunion was a way to remember past times. See Stan Woodward's Southern Stews and don't be too surprised when I get a bit of air time too.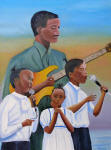 Gospel Angels (18x24 oil)
Old timey entertainment meant someone like this family group singing gospel music in South Carolina.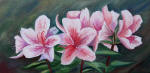 Azaleas (10x20 oil 1.5" gallery wrap)

Reflections (16x20) oil
Cypress swamps and standing water are scattered throughout the Atlantic Coastal plain.