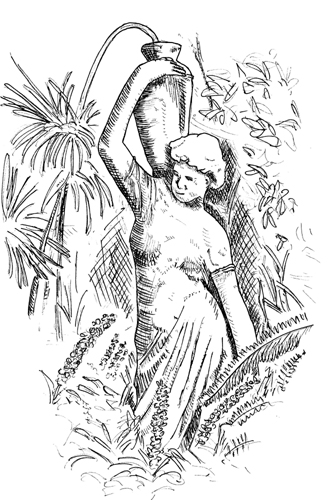 Flowers and Things
The personality of place is created not only by the large dominating buildings, mountains, roads, and other features, but by small details as well. In fact we remember some places almost entirely for their details, such as this garden nymph in a pocket garden in Charleston.
Home Richard Pillsbury Order Italy Charleston Low Country
Tuscan Red (48x24) 1.5" gallery wrap oil
Night Azaleas (24x24) oil
European Poppy I (11x14) oil
Azaleas (10x20) 1.5" gallery wrap
Beach Music (24x24) gal wrap

Sometimes its the smallest of flowers that make the place.
Study in Red (11x14)

Magnolia Gardens is renowned for more than 1,000 varieties of camellias in their gardens.
Edges (11x14)

Sometimes an opening bud brings out the subtle color changes and sense of wonder better than the full flower.
Magnolia Winter (16x20)

Winter becomes Magnolia Gardens as the camellias began to burst into the light.